Spring 2022 Excused Absence Policy
The following flowchart will help guide you through the process of dealing with an absence from class.  The steps are also presented in outline form below the image.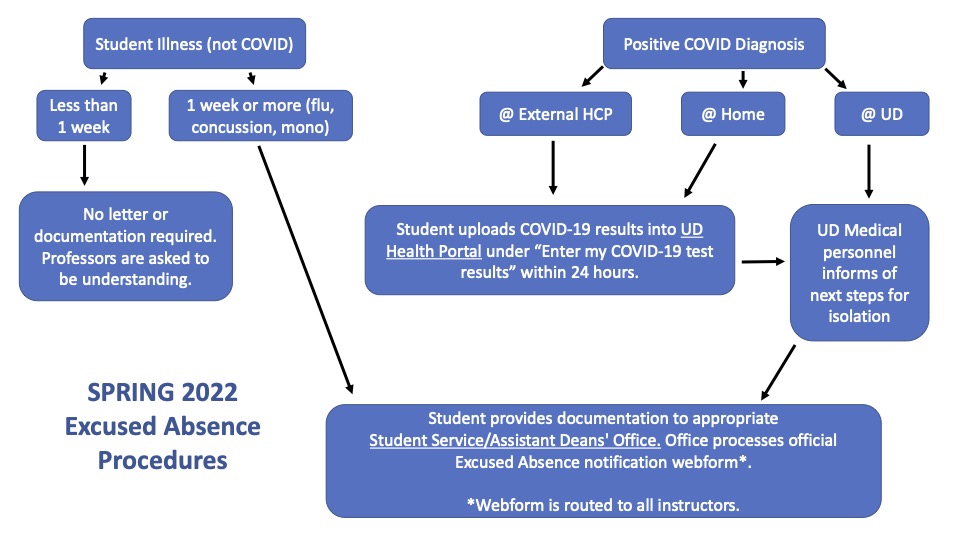 Spring 2022 Excused Absence Process
Follow these steps if you find yourself feeling too sick to attend classes.
Did you receive a positive COVID diagnosis?

If no, go to Step 2
If yes, go to Step 3

How long have you been absent from class?

Less than 1 week, go to Step 7
1 week or more (flu, concussion, mono), go to Step 6

Where did you receive your positive COVID diagnosis?

At an external Health Care Provider, go to Step 4
At home, go to Step 4
At UD, go to Step 5

Student uploads COVID-19 results into the UD Health Portal under "Enter my  COVID-19 test results" within 24 hours.
UD Medical personnel informs student of the next steps for isolation.
Student provides documentation to appropriate Student Service/Assistant Deans' Office.  Office processes official Excused Absense notification webform.  Webform is routed to all instructors.  STOP.
No letter or documentation is required.  Professors are asked to be understanding. STOP.