View Your Quality Deficit Points
Students in the probation process should be aware of the number of deficit points they have accumulated in order to develop a plan to reduce them.
Students can view deficit points on their unofficial transcript.
Access Your Unofficial Transcript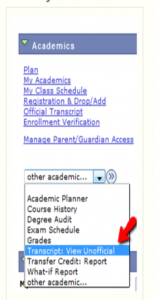 Log in to UDSIS. Need help? See Forgot your Username or Password?
In the Academics area, go to the "other academic" dropdown box and choose Transcript: View Unofficial
Your unofficial transcript will load in another browser window. If you do not see it, turn off your pop-up blocker or configure your browser to enable pop-up windows for UD trusted servers. See instructions.
For questions about what is displayed on your unofficial transcripts, see Reading Unofficial Transcripts.